CLASS NOTES
2022
Dr. Gary Heyamoto, Woodinville, Wash.: I'm enjoying "retirement" prepping teeth and performing patient examinations at the Lake Washington Institute of Technology, participating in the Washington State HPV Task Force (Community Outreach) and doing webinars for the ADA on HPV awareness for dental societies (made a complete oral cancer examination video; watch it at My Google Drive). I also accepted a position as a consultant for Merck's panel for HPV Vaccine Hesitancy and Awareness. I'm entering my 41st year as a statistician for the Seahawks and Husky Football, will continue shot clock duties with UW Women's basketball and will fill in as needed again for Seattle U and SPU basketball games. Our stat team will continue our postseason work with our 15th Rose Bowl and our 11th College Football National Championship game in January. (Fall 2022)
2021
Dr. Richard C. Engar, Salt Lake City, Utah: I retired from full-time work on Oct. 16, 2020.  I am now working only as a part-time senior consultant for my former company. I am putting together a museum to display my scale-model collection in Bountiful, Utah, along with a studio where I will be working on water color paintings.  I hope we can have a 40-year class reunion after a one-year delay thanks to COVID. (Spring 2021)
2020
Dr. Gary Heyamoto, Woodinville, Wash.:  Hard to believe my classmates and I have been proud graduates of the UWSOD for 40 years.  I was saddened to hear of the passing of a good friend and Dean of LSU's Dental School, Dr. Henry Gremillion, in May. I was just in New Orleans in January to keep stats for the CFP Championship game where LSU defeated Clemson. He was so thrilled!  Again, "Congratulations, Class of 1980" and Go Dawgs! (Fall 2020)
Dr. Gary Heyamoto: I retired from private practice in October 2019. I'm working one day a week at Lake Washington Institute of Technology, volunteering four days a week split between WAGD and the WA Oral Cancer Coalition on Oropharyngeal Cancer Awareness. Still doing stats for Husky Football, Seahawks, Rose Bowl and CFP Championship Game. (Spring 2020)
2019
Dr. Gary Heyamoto: I'm semi-retired now, having sold my practice and contracting back until October. After that, who knows? I'll be 65 and free to pursue another career (LOL). (Spring 2019)
Dr. Phillips B. Trautman, Camano Island, Wash.: I am volunteering as an affiliate faculty member at the UW School of Dentistry. (Spring 2019)
2018
Dr. Richard C. Engar, Salt Lake City, Utah: Honored to receive the Utah Dental Association Distinguished Service Award in April 2017. Still work a quarterly risk management volumn for the Academy of General Dentistry. Still a national champion competing at International Plastic Modelers Society contests, most recently in Omaha. Still on the faculty at the University of Utah School of Dentistry. Often run into our former UW restorative instructor, Dr. Lynn Powell. (Spring 2018)
Lucinda M. Folsom, Snohomish, Wash.: I retired in January 2015 and am astounded how busy that life keeps me. I continue to be an affiliate faculty member with the fourth-year students in clinic at the UW School of Dentistry, donating a full day of teaching each week for over a year, and now one half-day. It's been a rewarding way to give back. (Spring 2018)
Dr. Gary E. Heyamoto: Semi-retired now, working half time with Dr. Paul Roe. Devoting more time with the development of Washington AGD's Learning Center at Angle Lake and the Oral Cancer Awareness program here in Washington. (Spring 2018)
2015
Dr. Ross Fraker, Seattle:  Enjoying retirement from active patient care since December 2010, but lend a hand when needed to Dr. Sarah Fraker ('98).  Ross and Deanna are still very involved with the Amalgam Separator business and display The Amalgam Collector at several local, state and national meetings a year.  Ross was very involved at the beginning of 2015 helping the EPA transform their proposed national mandate into a dentist-friendly document as much as possible. (Fall 2015)
Dr. Gary Heyamoto: I completed my seventh year as AGD's Region II Trustee, hired on as defensive statistician for the NCAA National Championship Stat Squad, continue as the Rose Bowl defensive statistician, finished my 32nd year on the Seahawks stat crew, still am the CDE Chair for Washington AGD, but best of all, added a son-in-law. My daughter Taryn was married in October. Welcome, Taylor! (Spring 2015)
2012
Dr. Richard C. Engar: Congratulations to Bruce Kinney for his recent induction into the International College of Dentists. Also, congratulations to Sid Gallegos and Pollene Speed for their ongoing involvement with the Partners in Diversity Scholarship Program. (Spring 2012)
Dr. Ross Fraker: Sold my practice to my daughter, Dr. Sarah Fraker ('98), in 2008 and then worked for her as an associate until retiring in December 2010. My wife and business partner, Deanna Borden Fraker, travel extensively throughout the U.S. demonstrating our products, The Amalgam Collectors, at numerous dental conventions and meetings. In between these meetings and local service calls, we work in time for our two children's pairs of rambunctious boys, trips to Mexico, Hawaii or Canada and occasional yard work, of course. (Spring 2012)
Dr. Gary Heyamoto: Still "moonlighting" as stats man for Rose Bowl, Husky football, Husky basketball and the Seahawks. On the board of WSDA and in last term as AGD Trustee for Region 11. Enjoying working with Dr. Sang Bae for the last two years.
From the Academy of General Dentistry: The AGD is pleased to announce that Dr. Heyamoto has earned the 2012 Lifelong Learning and Service Recognition (LLSR) for his commitment to lifelong learning, volunteering his services to communities in need, mentoring associates and new dentists and participating in organized dentistry. This is the second LLSR that Dr. Heyamoto has earned with the AGD. Since its inception in 2005, only six of the AGD's 37,000-plus members have received the prestigious LLSR recognition twice. (Spring 2012)
2011
Dr. Richard C. Engar: At my age, I am enjoying the fruits of my posterity. My oldest son is a practicing lawyer, and my middle son is wrapping up his fourth year of medical school at the University of Utah. He and his wife are the source of our one grandchild, whom we spend many a delightful time enjoying. Our youngest daughter is wrapping up her education, also at the University of Utah, getting a master's degree in anticipation of her teaching school.
I still work as Attorney-in-Fact (CEO) of Professional Insurance Exchange, a self-insured professional liability company to protect and help Utah's dentists. I stay in the real world by teaching one or two half-days a month at the University of Utah's General Practice Residency Program (where the residents actually teach me!).
I have enjoyed building models ever since I was about 8 years old and have kept it up even into my old age! These are the type of model kits that you simply look at, not the radio-controlled kind, so the only time these models fly is if there is a problem during construction coupled with a lack of self-control on the part of the builder. Anyway, I am in several model building clubs and I compete with the models in contests where it is sort of like board exams, where your work is scrutinized such that you can earn a first, second or third prize. I am proud to say that I am a bona fide national champion, and my brother and I write a column about various aspects of model-building for one of the national publications. I build mainly airplanes but also cars, space subjects and figures. I can also boast the largest collection of scale-model airplanes available in Utah accessible for the public to see with over 150 (plus cars) in several glass display cases in my office. I don't dare state how many unbuilt kits I have in my crawl space waiting for their turn for fear that I will be accused of being a hoarder! Let's just say it is a four-figure number.
It was great to see many old classmates/friends at our 30-year reunion last summer, and I still have to rave at the great job that Ty Galvin did (with a little help from Marvel, his wife) orchestrating a great party! And I see more trips to Washington in the future since my undergraduate alma mater
(U of U) has finally achieved the status of reaching membership in the new PAC-12. (Spring 2011)
Dr. Gary E. Heyamoto: Our 2008 UWSOD valedictorian, Dr. Sang Bae, is practicing with me. She is a fantastic dentist! I should learn a lot. I'm honored to have been elected to the WSDA Board, still am AGD Trustee for Region 11 and continue to serve as a statistician for the Seahawks/Huskies. Life is good! (Spring 2011)
2010
Dr. Ross Fraker: I'm looking forward to our 30th reunion this year. I sold my practice to my daughter Sarah in 2008 and work for her when we are not traveling for pleasure or business with The Amalgam Collector. We are enjoying four grandsons ages 1-4 who are all in the Seattle area. I am looking forward to some type of retirement and maybe a new career. (Fall 2010)
Dr. Gary E. Heyamoto: I am now in my second year as Academy of General Dentistry Trustee for Region XI. I encourage all dentists to become AGD members and support the fight to preserve our scope of practice. As a statistician, I reached the pinnacle by calling the defensive stats for the Rose Bowl and BCS Championship Game in Pasadena. Like dentistry, sports are a whole world in and of itself. Truly an experience to treasure. (Spring 2010)
Dr. Phillips B. Trautman, Camano Island, Wash.: In 2009 I have had an employment change from Mount Vernon Sea Mar Community Health Center to Bellingham Willamette Dental. I am still living on Camano Island overlooking Skagit Bay. (Spring 2010)
2009
Dr. Ross Fraker: Recently sold practice to his daughter, Dr. Sarah Fraker, Class of 1998. He continues to work in the practice two days a week and remains busy with his corporation, R&D Services, Inc., manufacturing and marketing models of The Amalgam Collector™. He is looking forward to the 30th reunion of his class in 2010. If you are interested in helping with the reunion planning, please contact Ross at rmfraker2002@yahoo.com. (Spring 2009)
Dr. Ty Mitchell Galvin, Renton, Wash.: Hi, Class of 1980 alumni. I am beginning to organize our 30-year reunion (yes, in 2010). If you have any suggestions, please e-mail me at: tmitch1096@aol.com. It will be a guaranteed good time for all! (Spring 2009)
Dr. Gary E. Heyamoto: In July 2008, I became the Academy of General Dentistry's Trustee for Region II. Currently, I am serving on WSDA's Budget & Finance Committee. Also, it is with great pleasure to continue working as a statistician for the Seahawks and UW Husky football and basketball teams. In January, I began serving as defensive statistician for the Rose Bowl stat crew. Hopefully, one day soon, I can work a "home game" on Jan. 1! (Spring 2009)
2008
Dr. Gary E. Heyamoto: In November 2007, my practice expanded to include Dr. Tammy Eckart. A native of Green Bay, Wisc., we're proving "Packers" and "Seahawks" can co-exist. Seriously, I'm pleased to be working with such a talented, hard-working younger dentist. (Spring 2008)
REUNIONS
30th Reunion
On June18, 2010, the Class of 1980 held its 30-year reunion in the historic Sorrento Hotel in downtown Seattle, with Dr. Ty Galvin serving as Reunion Chair. With many dentists in town for the WSDA Convention, 54 classmates plus 48 spouses/significant others/guests were in attendance. The following Class of 1980 "Academy Awards" were issued:
Farthest Traveler (from Omaha, Neb.): Dr. Rose Homan, who beat out others who came from Alaska, Utah and Arizona
Most Interesting Side Career: Dr. Hester Rumberg, an international best-selling author
Most Inspirational Dentists: Drs. Mike Karr and Mark Paxton for international relief work
Most Excited about the Reunion: Dr. Dave Rosenthal
Most Helpful Person named Dick: Dr. Dick Engar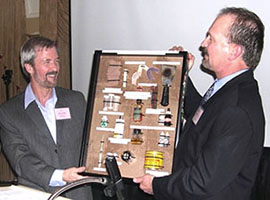 A computer presentation by Dr. Engar highlighted memorable instructors from the 1976-80 era, and several faces (now not so young) were prominently featured as we learned how to cut preps and make dentures. Dr. Mike Hairfield presented a collection of 1980 Historical Archives to our distinguished reunion chair, Dr. Galvin, which featured rubber base and Impregum impressions, among other relics from days gone by. The 54 classmates in attendance crowded on the roof for a photo with no catastrophes despite the absence of protective railings. Several other pictures were taken featuring the attendees reminiscing and basically having a great wave of nostalgia.
The hotel staff basically had to shoo us out at midnight because we did not want the fun to stop. In any event, a splendid time was had by all, and the buzz was that excuses need to be generated to prompt the group to meet more often.
– Richard C. Engar, DDS
Photos courtesy of Marvel Galvin and Richard Engar
IN MEMORIAM
DR. ROSS M. FRAKER, CLASS OF 1980
Dr. Ross McKee Fraker died on Aug. 24, 2019, surrounded by his family, from complications related to a fall. He was 76.
Dr. Fraker was born on Oct. 16, 1942 in Wichita Falls, Texas, to Ross D. and Helen McKee Fraker. His father was killed in an aircraft accident on Okinawa Island, Japan in 1945 while in the Army Air Corps. Mrs. Fraker, young Ross, and baby Leslie then returned to the family ranch. She later married Elvin Addison, and the family welcomed sister Merri. They moved to Greeley, Colo.
During his junior high years in Greeley, Dr. Fraker met Deanna Borden. They began dating in high school, from which they both graduated with high honors. He played trumpet and French horn in the school band, was a varsity wrestler, and rode bulls for the FFA team. He went to the University of Colorado (CU), initially to study engineering, then changed his focus to mathematics. In addition to receiving his bachelor's, master's, and PhD in applied mathematics from CU, he was an NCAA letterman in wrestling.
The couple married on Aug. 25, 1963. Their daughter, Sarah, was born in April 1971 in Boulder. Two months later he completed his doctorate, and the family moved to Logan, Utah, where he was a mathematics professor at Utah State University. In August 1974 their son, Erik, was born. After five years of professorship, Dr. Fraker and his family moved to Seattle so he could attend the School of Dentistry. The family enjoyed sailing, clam digging, berry picking, camping, and Husky football.
In 1980 he began a 30-year career practicing general dentistry. He adored caring for his patients, and had a calm presence and a gentle and kind touch. He often commented that his favorite part of his practice was talking to people. Many patients considered him their friend. Community service was a foundation of his life, and he was highly engaged in organized dentistry, holding many leadership positions with the Seattle-King County Dental Society, Washington State Dental Association, and School of Dentistry Alumni Board.
As a practicing dentist with an engineering mindset, Dr. Fraker developed and patented The Amalgam Collector, an apparatus that removes heavy metal from dental waste. Considered an industry expert, he helped many water districts and dental societies across the country develop and implement regulations for dentists to trap waste metal in their offices and prevent pollution of the general water and sewer systems. When the federal government began drafting legislation on the topic, he testified before the EPA in Washington, D.C., fulfilling his mission of saving the environment one dental office at a time.
In another facet of his commitment to service, Dr. Fraker participated in several volunteer mission trips, helping communities in Louisiana, Mississippi, and Texas rebuild after devastating hurricanes and flooding. He was skilled at everything from electrical wiring to roof and drywall repair, and worked long, hard hours in hot, humid weather helping others get back on their feet.
The Frakers spent 56 years of marriage traveling the world, loving many dogs and cats, and making countless memories with their family, including: Sarah Fraker, DDS, and Jim Jensen (sons James and Grant); Erik and Margo Fraker (sons Charlie and Sam); and siblings, in-laws, cousins, parents, and numerous friends.
DR. DAMON JEFFERY GUINN, CLASS OF 1980
Damon Jeffery Guinn was born Sept. 13, 1954 in Portland, Ore.; died July 13, 1999 in Snohomish County. Loving father of Lisa, David, and Brian Guinn; brother of Michele (Michael) Romeo and David (Cheryl) Guinn. Also survived by his grandmother, Rosalie Guinn, and numerous nieces and nephews. Dr. Guinn was a 1972 graduate of Mercer Island High School, a graduate of the University of Washington and the University of Washington Dental School in the Class of 1980. He was an avid golfer and lived in Mill Creek for almost 20 years. Jeff was an incredible dentist dedicated to gently caring for his patients. He loved his patients and always put their welfare as his top priority. Above all, Jeff was a dear friend to so many people. He always had an open heart.
DR. ROSE M. HOMAN, DDS CLASS OF 1980
Dr. Rose M. Homan of Omaha, Neb., and formerly of Remsen, Iowa, died on Jan. 26, 2023 at The Heritage at Sterling Ridge. She was 75.
She was born on Jan. 23, 1948 in Le Mars, Iowa, to Gerald and Armella Homan.
She was raised on the Homan Jersey Farm in Remsen and received her education from Remsen St. Mary's High School, graduating in 1966. She received her diploma from St. Vincent Hospital School of Nursing in Sioux City, Iowa, and her BSN and MA from the University of Iowa School of Nursing in Iowa City.
She was an instructor at the UW School of Nursing before attending the School of Dentistry. She completed her dental residency in New York City, followed by a career at the UCLA School of Dentistry, where she served as a faculty member, practitioner, and administrator.
Upon her retirement Dr. Homan moved to Omaha. She enjoyed traveling to many countries (notably Luxembourg), genealogy, planting flowers, the opera, and Broadway touring shows.
Dr. Homan is survived by her siblings, Sr. Jeanette Homan, OSF of Dubuque, Iowa, Richard (Betty) and David (RaNae) of Remsen, Donald (Laurie) of Cedar Rapids, Mary of Phoenix, Betty Klesitz and Susan (Tom) Gensichen of Omaha, Rita and Kathy of Colorado Springs, Colo., and Mark (Nina) of Gretna, Neb.; and numerous nieces and nephews.
She was preceded in death by her parents and brother-in-law Michael Klesitz. (LeMars Daily Sentinel)
DR. RICK K. OUHL, CLASS OF 1980
Dr. Rick "Rickie" Kenneth Ouhl of Spanaway, Wash., passed away peacefully on June 30, 2019, surrounded by his family. He was 65.
Dr. Ouhl was born on Feb. 22, 1954 on Mare Island, Calif. His family moved to Parkland, Wash., when he was a toddler. He lived there most of his life. He graduated from Washington High School in 1972 and Pacific Lutheran University in 1976. His lifelong dream of being a dentist became a reality, and he opened his dental practice in Parkland.
His impact on the community though 39 years at his dental practice embodied his passion and commitment to helping others, and he always embraced and welcomed his patients as family. He loved his staff, and they were pivotal in helping to build a successful practice. He welcomed their opinions on patient care and the daily workings of the practice. He truly valued everyone who was a part of Team Ouhl.
Dr. Ouhl served as president of the Pierce County Dental Society and on the board of directors for the Washington State Dental Association. He loved snow skiing, golfing, gardening, and cheering on the Huskies, Seahawks, and Mariners. He spent his most cherished days with his wife, Amy, enjoying gourmet meals, traveling, and doting on his beloved dogs, all eight of them.
Dr. Ouhl is survived by his wife, Amy; and children Sydney, Tryce, Sara, and Andrew. (Tacoma News Tribune)
DR. MARK C. PAXTON, CLASS OF 1980, GPR CLASS OF 1981
Dr. Mark Christopher Paxton died on Feb. 8, 2018 in Spokane, Wash. He was 63. Dr. Paxton was a beloved husband, father, Papa, brother and friend. His life was packed to the brim with adventure, service, family and friends.
Dr. Paxton was born on Aug. 10, 1954 in Burbank, Calif., to Tom and Sue Paxton. He was the third of six children and grew up in Bellevue, Wash. He graduated from Washington State University and then attended the School of Dentistry. While at UW, he met Diane Stevens, followed her around, and persuaded her to marry him in 1980. After dental school, he joined the U.S. Air Force, where he received his training as an oral and maxillofacial surgeon.
After leaving the Air Force, the Paxtons relocated to Spokane in 1995, where he started his oral surgery practice. Dr. Paxton had a special interest in cleft lip and palate surgery, and he touched the lives of many patients and their families through his compassionate and skilled work. He traveled to Colombia and Guatemala for 28 years with Hearts in Motion to perform surgeries for children who would have otherwise gone without any help. He mentored hundreds of surgical residents, dental students and WSU undergraduate students, and took them to Guatemala on these mission trips. He was also fundamental in building the Inland Dental Expanded Access Clinic in Spokane.
Dr. Paxton lived a full life and he touched many people. He loved adventures like traveling, hiking, biking, skiing, sailing, and especially flying. He was very loyal to his WSU Cougars. Mostly, he loved his family and friends, and cherished his last several months having his grandchildren, Quincy, Clara, and Edda, living in his home. He was a beloved Papa.
He is survived by his wife, Diane; son Chris (Mary Dorothy); daughter Lindsey; grandchildren Quincy, Clara, and Edda; siblings Anne (Jim Harvey) Paxton, Tim (Cathy), Matt (Kris), and Suzanne; parents-in-law Otto and Shirley Stevens; sisters and brothers-in-law Scott (Suzi) Stevens, Rich Stevens, Brian (Denise) Stevens, and Kristi (Rob) Rice; many nieces and nephews; and numerous special friends. He was preceded in death by his parents and his older brother Tom. (Spokane Spokesman-Review)
DR. BARBARA U. SIMPSON, DDS CLASS OF 1980
Dr. Barbara Uldene Simpson (née Robinson) died peacefully at her home surrounded by family on Nov. 17, 2022 in University Place, Wash., after living with ALS for six years. She was 68.
She was born on May 25, 1954 in Bismarck, N.D., to Donald and Margaret Robinson. In 1972, she graduated from London Central High School in High Wycombe, United Kingdom, while living with family in Farnham Commons, Buckinghamshire. She earned a degree in zoology from Iowa State University in 1976 and entered the School of Dentistry. She served as a U.S. Army dentist at Fort Lewis, Washington and Taegu, South Korea until June 1984.
The Rev. Dr. Robert S. Rayburn, pastor of Faith Presbyterian Church, introduced her to Michael Simpson and they were married on June 8, 1985. She loved being a full-time mother and, in addition to being active in the ministry of the church, she enjoyed knitting, sewing, playing the piano, cooking, gardening, and painting. When her four children got older, she returned to dentistry and worked as a hygienist at 6th Avenue Dental Care in Tacoma for 11 years. During her last years, while enduring the ravages of ALS, she graciously kept her eyes on the Lord and was an inspiration to many.
She was an active member of Faith Presbyterian Church in Tacoma and  sacrificially devoted herself to serving her Lord, family, and Christian brothers and sisters.
Dr. Simpson is survived by her husband, Michael; children David (Katelyn) of Cincinnati, Ohio, and Jonathan, Elizabeth (Logan) Green, and Mary (Scott) Ligman, all of Tacoma, Wash.; siblings Marion (Duke) Vermazen of Reno, Nev., Elizabeth (Steven) Thompson of Memphis, Tenn., and Charles (Annie Robinson) of Seneca, S.C.; and cousins, nieces, and nephews. (Legacy.com)