CLASS NOTES
Dr. Fleet C. Ratliff, Olympia, Wash.: Recently returned from McMurdo Station in Antarctica for the last time. He spent the last two summers (our winters) as "the only dentist in Antarctica" for the United States Antarctic Program. Temperatures seldom got above freezing at McMurdo and on each of four trips to the South Pole the "wind chill" got down to negative 80 degrees Fahrenheit. It takes 21 hours in the air and at least one day in Christchurch, New Zealand to get to McMurdo where an Air Force C-17 from McChord AFB in Tacoma lands on a runway carved out of the ice. The trip to the South Pole is in a four-engine LC-130 on SKIS! It is 800 miles and takes about three hours. Yes, he saw wild penguins, and no, he didn't become at expert on "climate change." CBS did a segment for the Evening News on Dr. Ratliff which can be found by typing "CBS Fleet Ratliff" into Google. It was a great ride, but it's time for someone else to have all the fun. (Fall 2008)
IN MEMORIAM
DR. KENNETH J. HAMADA, CLASS OF 1968
Dr. Kenneth J. Hamada died on Sept. 10, 2016 at his home in Shoreline, Wash. He was 77.
Dr. Hamada was born on Dec. 9, 1941 in Caldwell, Idaho to Junji and Kuniko (Nakatani) Hamada. He wrestled in high school and enjoyed fishing, hunting, skiing, bowling and Husky football games. He was pretty handy fixing things, worked on cars and did autocross racing with his Porsche.
He practiced dentistry for more than 40 years in Seattle's Lake City neighborhood and in Shoreline, Wash., after serving in the U.S. Army in Fort Riley, Kansas. He graduated from the College of Idaho in 1964. He married Joan Reese on Feb. 14, 1976.
After he received a heart transplant at UW Medical Center in 1994 and a kidney transplant in 2001, Dr. Hamada's patients called him the "miraculous dentist" – testimony of his will to survive. He was lovingly cared for by his devoted wife and retired in 2014. His employees over the years were treated like family. He expected a lot, but was generous as well. He had a vivid imagination and quick wit.
Dr. Hamada is survived by his wife, Joan; sister Ame Kobayashi of Los Angeles; sister-in-law Masako Hamada of Spokane, Wash.; and many nephews, nieces and great-nephews and -nieces. He was predeceased by his parents, brother Harry and sisters Junko Tanikawa, Kimi Nakanishi and Chiye Tamura. (Legacy)
DR. ROBERT E. MARTIN, CLASS OF 1968
Dr. Robert E. Martin died of leukemia on Oct. 14, 2011. (No further details were available.)
DR. MICHAEL P. MOLVAR, CLASS OF 1968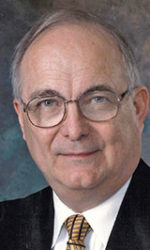 Dr. Michael Peter Molvar died on Dec. 27, 2020 of cancer. He was 78.
He was born on Jan. 7, 1942 to Margaret and Art Molvar in Seattle. He graduated from West Seattle High School, where he was valedictorian. He graduated cum laude from Dartmouth College in 1964 and was a member of Sigma Phi Epsilon Fraternity. He received his MS in restorative dentistry from the University of Michigan School of Dentistry in 1983. He was a captain in the U.S. Army and served three years as a dentist in Germany.
Early in his career, he was in private practice in Redmond, Wash., where he was co‐founder of the Sammamish Valley Dental Center. He received the Chancellor's Gold U Award from the University of Nebraska Medical Center (UNMC) in 2003, the Outstanding Teacher Award from the College of Dentistry in 1985, and the distinguished Faculty Award in 1982. He wrote many articles for scholarly journals and authored chapters in textbooks. He also was editor of two books and presented at many dental meetings. He retired as assistant dean of the UNMC College of Dentistry in 2010, after 30 years of service.
Dr. Molvar was a member of the Academy of Operative Dentistry, the American Academy of Dental Group Practice, the American Association of Dental Schools, Omicron Kappa Upsilon, and other professional organizations.
He enjoyed supporting the arts in Lincoln, Neb., and was an avid Husker sports fan. He was also an accomplished cook and enjoyed planting and landscaping in his yard. In retirement, he was a self‐taught skilled woodworker. He and his wife, Rosie, were world travelers and nature lovers.
He hiked and camped in many of the nation's challenging mountain ranges and had visited every national park. He said his greatest personal achievement, along with raising his family, was climbing Mount Rainier.
Dr. Molvar is survived by his wife, Rosie (Rosemary); children Tiffany Sheets of Omaha, Neb., Todd (Randi Meyer) and Jay (Kelly) Jensen of Lincoln, Neb., and Dr. Josh Thoendel of O'Neill, Neb.; grandchildren Zack and Matt Humphrey and Piper Jensen of Lincoln and Joslyn and Jillian Thoendel of O'Neill; siblings John and Christine of Surprise, Ariz., Barb and Craig Claassen of Grants Pass, Ore., and Dan of Seattle; and nieces and nephews. He was preceded in death by his parents and his daughter Julie Jensen Thoendel. (Journal Star)
DR. BYRON M. NAKAGAWA, CLASS OF 1968
Dr. Byron M. Nakagawa passed away on Nov. 21, 2013 in Seattle. He was 70.
Dr. Nakagawa was born to Nobushi and Katsu (Watanabe) Nakagawa on Jan. 4, 1943 in Hunt, Idaho. He was a beloved West Seattle dentist for many years.
He is survived by his mother and sister Peggy Murayama and brother David and their families.
DR. LLOYD W. WHITE, CLASS OF 1968
Dr. Lloyd W. White of Brewster, Wash. passed away on March 25, 2017. He was 73.
Dr. White was born on Oct. 2, 1943 in Nebraska. He graduated from the School of Dentistry. During a career that spanned the state, he served as President of the Washington State dental board.
Dr. White is survived by his wife, Abril; three children; four grandchildren; and sister Joan.
(Legacy)