CLASS NOTES
2023
Dr. Tom Jones, Kirkland, Wash.: The Class of 1963 is planning a reunion in mid-September 2023. It will be held at Tsillan Cellars wine tasting in Woodinville. Look for more details to be sent to you. It will be great to get together! (Spring 2023)
2015
Dr. Wallace Brown, Salt Lake City, Utah: Recently my wife and I took a trip to Arizona and went through Chinle, Ariz. Our good friend, Jim Menzies, spent time there with the Indian Health Service. We took a bunch of photos. I am sure it has changed greatly since the Menzies were there in '64-'66. Prior to that, we had another great adventure. We flew to Buenos Aires, Argentina, and then north to Iguazu Falls. It was spectacular. Then we boarded a cruise ship and went south to the Falkland Islands, around Cape Horn, and cruised around the Antarctic Peninsula for three days. Then to Ushuaia, Argentina (the southernmost city in the world). Cruised the Beagle Channel, Magellan Straits, and up the Chilean coast to Valparaiso and Santiago. We have now been to all seven continents and added five more countries to our list, now over 50 countries. Great adventure. Life is good here. Our kids came from all over last week for a surprise 80th birthday party for Pat. Best wishes, Wally. (Fall 2015)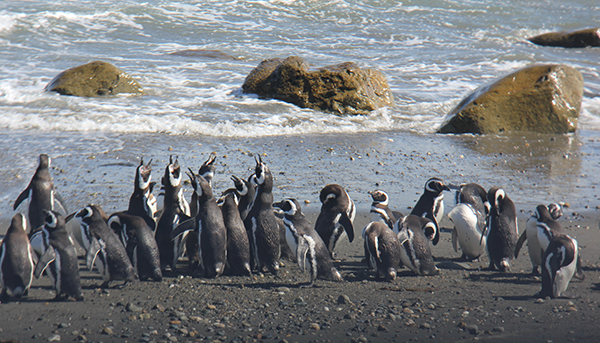 2012
Dr. Wally Brown: We had a great mini-class reunion in Logan, Utah: Bob Soderberg, Ron Gage and Wally Brown. Although I have seen the others over the years, this is the first time that Bob and Ron have seen each other since graduation. Bob and Wally live in Salt Lake City and Ron lives just 120 miles away in Preston, Idaho. (Fall 2012)
2011
Dr. Arthur A. Dugoni, dean emeritus, professor of orthodontics and senior executive of development at University of the Pacific's Arthur A. Dugoni School of Dentistry, received the American Student Dental Association's initial Paragon Award, its highest honor, at the ASDA Annual Session on March 3 in Anaheim, Calif. The award recognizes excellence in advocacy on behalf of students, clinical practice, contributions to the lives of dental students, innovations in progressing dental education and dedication to organized dentistry. (Fall 2011)
2010
Dr. Wally Brown: Retired seamlessly from my Endodontic practice in Salt Lake City on Dec. 31, 2003. Since then I have been very busy serving in Rotary International, locally and internationally. As Rotary Literacy Chair, I direct a program with the goal to provide a dictionary to every third-grade student in Utah each year. That is a big challenge, but this year is the first time we have achieved 100 percent of the public schools in Utah, and about 75 percent of the charter and private schools. It totaled 50,770 books personally distributed to children at over 600 schools all over the state by members of 44 Rotary clubs. I was also named Rotarian of the Year in our District in 2010. I am humbled by that. Recently returned from my sixth trip to Nepal doing village dentistry of the most basic kind. No electricity, no roads, no dental access, so we help the most people that we can in the teeth. Twenty-three were not savable. I have three children and nine grandchildren. All were present at Snoqualmie Falls in August 2007 where they treated us to a three-day celebration of 50 years with the right woman. We are both healthy and happy. I average at least 100 miles per month walking. Life is good. Huskies vs. BYU on Sept 4: a tough decision. (Fall 2010)
Dr. Richard Duoos, Spokane, Wash.: Richard has been retired from Pediatric Dentistry for many years. He and Janice are now living north of Spokane on the Little Spokane River. With eight grandchildren, they are excited that one of them is following in her grandfather's career choice. Their active retirement years at Port Ludlow, Wash., were mostly spent sailboat racing and cruising in the Washington-British Columbia waters. (Fall 2010)
IN MEMORIAM
DR. CLIFTON O. CALDWELL JR., CLASS OF 1963
Dr. Clifton O. Caldwell Jr. died on Oct. 23, 2016 in Spokane, Wash. He was 78.
Dr. Caldwell, Capt. USN (Retired), was born on March 10, 1938 in Ephrata, Wash., to Clifton O. Sr. and Carol B. (Gamon) Caldwell. His early childhood years were spent in Spokane, where his father had a dental practice. When he was in high school, the family went to Okinawa, Japan, after his father was drafted into the Army for the Korean War. They returned to Spokane in time for him to graduate from North Central High School in 1956 with many of his childhood friends.
Dr. Caldwell attended Eastern Washington University and the University of Washington. After graduation from the School of Dentistry, he entered the Navy and was stationed in southern California. Upon leaving active service, he and his first wife, Carol (Shanks), returned to Spokane, where he served dental patients for 37 years. He remained in the Navy Reserve for 30 years. He was a member of the American Dental Association, Washington State Dental Association, Spokane District Dental Society, International College of Dentists, Delta Sigma Delta, Masonic Lodge, Elks, Spokane Camera Club and Barbershop Harmonizers in Coeur d'Alene, Idaho and Hemet, Calif. He enjoyed skiing, golfing, boating, photography, and singing.
Dr. Caldwell is survived by his wife of 26 years, Vonda; sons Rob (James Jaxxa), Scott (Tawnya) and Mark; daughters Alla Dalton and Debra (Cal) McKee; grandchildren Jaime Neel, Aaron (Erin) Neel and Amelia, Ben and Holly Caldwell; great-granddaughters Peighton Neel and Averi Neel-Hayes; sister Caryn Alley; brothers-in-law Deni Linhart and Tom Shanks; sisters-in-law Kathy Welsh and Jeannie Shanks; and numerous cousins, nieces, nephews, and great-nieces and -nephews. He was preceded in death by his parents. (Legacy)
DR. RICHARD D. DUOOS, CLASS OF 1963
Dr. Richard "Dick" Duoos passed away peacefully on Jan. 19, 2016 at his home in Spokane, Wash. He was 80.
Dr. Duoos celebrated his 80th birthday on a warm Spokane summer day with four generations of family at his home.
He was born on Aug. 18, 1935 in Minneapolis to Stener and Berniece Duoos. The family moved to Spokane in 1939, where he attended Wilson and Roosevelt Grade Schools and graduated from Lewis & Clark High School in 1953. He earned his undergraduate and dental degrees at the University of Washington. After completing a residency in children's dentistry in Honolulu, he established his pediatric dental practice in Santa Cruz, Calif., where he practiced for 25 years. He retired to Port Ludlow on Washington's Olympic Peninsula and returned to Spokane in 2006.
His memberships included the California Society of Dentistry for Children, California and American Dental Associations, American Society of Preventive Dentistry, Delta Sigma Phi and Delta Sigma Delta fraternities, Santa Cruz Yacht Club and Port Ludlow Yacht Club. He enjoyed skiing, sailing, golf, fishing and traveling.
Dr. Duoos is survived by his loving wife of 29 years, Janice Overvold Duoos; daughters Deanna Davis, Mary Kay (Curt) Craig, Andrea (Rob) Radomski and Leslie (Joe) Muzzio; former wife Donna Reynolds; eight grandchildren; three great-grandchildren; two uncles; and several cousins. He will also be missed by his beloved dog, Oona. He was preceded in death by his parents, son Darrell and several aunts and uncles.
DR. RONALD L. GAGE, CLASS OF 1963
Dr. Ronald Lee "Ron" Gage passed away on Jan.19, 2017. He was 83.
Dr. Gage was born on Jan. 23, 1933 in Franklin, Neb., during the Great Depression, to Charles and Lula (Lynch) Gage. The difficulties of the Dust Bowl caused the family to move to Boise, Idaho, in 1936, where he completed his 12 years of schooling. After high school graduation in 1951, he was employed by Mountain States Telephone and Telegraph, first as a draftsman and then as a lineman, working through the northern Cache Valley, Downey, Montpelier, Grace and all the surrounding areas. While in Grace, he met the Gillett family and was impressed with the feeling in their home and attitude about religion. After learning about the gospel from the local seminary instructor, Ernest Skinner, he joined The Church of Jesus Christ of Latter-Day Saints. He married Marilyn Mae Gillett on May 24,1954 in Logan, Idaho. Their family included children David, Julia, Andrea and Jennifer. The couple later divorced.
Dr. Gage served two years in the Army near the end of the Korean Conflict. He was stationed in El Paso, Texas, and San Luis Obispo, Calif. After his discharge, he was employed by Morrison Knudson, working as an engineer in western Idaho on the Hells Canyon project. When he decided to go to dental school, he and his family moved back to Boise, where he attended Boise Junior College on the GI Bill. They then moved to Seattle, where he attended the School of Dentistry. After completing his schooling, he moved with his family to Olympia, Wash., where he practiced dentistry for 32 years.
On Jan. 10, 1981, Dr. Gage married Elizabeth Blood, adding five children to his family: Brig Consoliver, Pat Consoliver and Dorothy, Sara and Tony Gage. After retiring in 1994, the couple divided their time between a new home in Preston, Idaho, and Mesa, Ariz. In 1995, the decision was made to sell the Arizona home.
In addition to his successful career as a dentist, Dr. Gage fabricated jewelry using the lost-wax casting technique as well as other methods. He was skilled at woodworking and shared pens, bowls and rings with friends and family.
His testimony of the Gospel was important to him, and he served in many capacities, including bishop, counselor, branch president and teacher.
Dr. Gage is survived by his wife, Elizabeth; daughters Julia (Mike Carruth) and Andrea (Ken Krull); stepchildren Brig (Linda) Consoliver, William Patrick (Lorraine) Consoliver, Dorothy (Ken) Baumer, Sara (Frank) Ernst and Tony Gage; 20 grandchildren; 15 great-grandchildren; sister Evelyn (Richard) Scribner; and numerous nieces and nephews. He was predeceased by children David and Jennifer, brothers Kenneth and Bobby and sister Marlene Scribner. (www.webbmortuary.com)
DR. RICHARD D. LESHGOLD, CLASS OF 1963
Dr. Richard Dean "Dick" Leshgold died on Jan. 6, 2020. He was 86.
He was born on Nov. 8, 1933 in Seattle to Ben and Mildred Leshgold. He lived in Seattle until age 8, when his father passed away. He worked to help support his family and would jump at the chance to go to the movies when he could afford a ticket. He and his mother moved to Los Angeles, where he attended Virgil Middle School and Fairfax High School. When he was 16, he entered UCLA. He later moved back to Seattle with his mother when she remarried, and received his undergraduate degree from the UW. There he met the love of his life, Joan Gold. They married in May 1955. Upon graduation, he entered the U.S. Air Force as an officer. He was stationed at Kyoto Air Force Base in Japan for three years, after which the couple settled in the Seattle area.
Dr. Leshgold started his practice in Seattle in 1963, and had an incredible career with thousands of patients who loved coming to see him for his pain-free dentistry. He served as president of the Washington State Dental Association, was on the boards of the American Dental Association and Delta Dental, and worked as the team dentist for the Seattle Mariners from their inception in 1977 until he retired in 1998.
He had a strong bond with his three children and five grandchildren, introducing them to new things and making time for vacations. He was also an avid tennis player and fisherman. After retiring he split his time between Bellevue, Wash., and Rancho Mirage, Calif., where he played golf and tennis, and spent quality time with close friends and family. He was known for his warmth and unusually positive attitude.
Dr. Leshgold is survived by his children, Gary, Bruce, and Beth; daughters-in-law Wendy and Sara; grandchildren Sam, Nick, Danielle, Nicole, and Benjamin; and brother Jerry. He was predeceased by his wife of 54 years, Joan. (Seattle Times)
DR. LORENZO PATELLI, CLASS OF 1963
Dr. Lorenzo "Larry" Patelli died surrounded by his family on Dec. 11, 2011 in Surprise, Ariz. He was 73.
Dr. Patelli was born on Feb. 6, 1938 in Teaneck Township, N.J. He served in the U.S. Army and retired from his Seattle dental practice after 30 years.
He is survived by his wife, Eileen; sons Joseph Peter and John Patrick; daughter Gina M.P. Fisher; step-son Quin Ourada; 14 grandchildren; and sister JoVanna Moses. He was preceded in death by his parents, Giuseppe and Ernestina Patelli. (obits.dignitymemorial.com)
DR. WILLIAM G. RICHARDS JR., CLASS OF 1963
Dr. William G. "Beeze" Richards Jr. passed away peacefully on Aug. 18, 2014. He was 78.
Dr. Richards was born on Jan. 31, 1936 in Prosser, Wash. He graduated from Prosser High School in 1954 and received a B.A. in chemistry from the UW in 1959. He taught at the School of Dentistry for two years and served in the U.S. Navy at Camp Pendleton for two years. In 1965 he set up a dental practice in Gig Harbor, Wash., and for 31 years reminded patients to "floss only the teeth you want to keep." He later retired to Kingston, Wash.
Dr. Richards was known for his love of golf, fishing, hunting, Husky sports and fine dining at Dick's burgers and for the best smoked salmon in town. He taught his family to tell the truth, love God, keep a sense of humor, brush their teeth and keep family first.
Dr. Richards is survived by his wife, Jan; daughter Tracy (Greg) Fisher; son Buzz; stepchildren Jillian (Brad) Rutherford and Tim Pennell; many grandchildren; and sister Ann Zylstra (Fred).
He was preceded in death by his daughter Tara and brothers Dick and Mike.
Memorials may be made in his name to the UW Athletics Association/Crew. (Legacy.com)
DR. WILLIAM ROSENDAHL, CLASS OF 1963
Dr. William "Bill" Rosendahl died from a cancerous brain tumor on March 27, 2012 at Bayview Manor in Seattle. He was 75.
Dr. Rosendahl was born on Oct. 28, 1936 in Seattle. He graduated from Ballard High School, where he was yell leader in his junior and senior years and also on the baseball team. After three years in the Army, stationed in Puerto Rico as a dental specialist, he continued his studies and earned his DDS at the UW. His passion for dentistry and serving his patients lasted 48 years. He had offices in Seattle's University Village area and on Vashon Island. In 1995, he started a dental assistant training school in Seattle, where he enjoyed teaching and mentoring students.
Dr. Rosendahl was a life member of the Seattle-King County Dental Society, Washington State Dental Association and American Dental Association and a member of the Pierre Fauchard Academy. He was an active skier, golfer, tennis player and poker enthusiast and enjoyed all local sports teams, especially the Huskies. He and his wife, Barbara, traveled to their winter home near Puerto Vallarta, Mexico, and many places around the world.
Dr. Rosendahl is survived by his wife, Barbara; daughters Lynda, Kari, Amy and Jody (Andres); grandson Ryan; brothers Joe and Doug; sisters Gloria and Darla; nieces; and a nephew. (Seattle Times)
DR. WALLACE C. VOLZ JR., DDS CLASS OF 1963 
Dr. Wallace Carl "Wally" Volz Jr. passed away on Nov. 24, 2021 in Anacortes, Wash. He was 84.
He was born on Jan. 4, 1937 in Eugene, Ore., to Wallace Carl and Ethel Josephine Volz. He spent his formative years in Sitka, Alaska, where he attended Sitka High School. He and his family relocated to Grayland, Wash., where he graduated from Ocosta High School. He attended the UW and served in the U.S. Air Force and Navy. After his service, he practiced dentistry in Seattle and eventually moved to his main practice in Bremerton, Wash. He was a member of the WSDA for many years and served as president in 1992. When he retired from dentistry after more than 40 years, he continued to contribute to the community as a member of the Dental Quality Assurance Commission and as superintendent for Public Health District 2.
Dr. Volz was a Boy Scout troop leader, fisherman, avid reader, and craftsman.
He is survived by his wife, Sharon; children Mary Jo, Robert, Kevin, and Sarah; five grandchildren; one great-grandchild; several nieces and nephews; and siblings Sandy and Frank. He was predeceased by his parents and his sister, Roberta Jean "Bobby" Alexander. (Kitsap Sun)
DR. JAY R. WEST, CLASS OF 1963
Dr. Jay Reed "Uncle Jay" West of Layton, Utah, passed away on Oct. 15, 2013. He was 77.
Dr. West was born on Oct. 5, 1936 to James Reed and Rheuama Allan West in Spanish Fork, Utah. He received a BS degree from Utah State University before earning his DDS from the University of Washington, where he also served on the faculty. While at the UW, he met Lorraine Murphy. They were married in the Idaho Falls Temple in 1961.
Dr. West earned a degree in orthodontics from Northwestern University in Chicago and served as a captain in the U.S. Army in White Sands, N.M. He set up an orthodontics practice in Clearfield, Utah and retired in 1990.
During his retirement, Dr. West traveled to Europe on the Concorde several times, developing longtime friendships. He authored the book From East to West, a history of the West family, and was a dedicated husband to his wife during her years of illness.
Dr. West is survived by his siblings, Elaine (Kenneth) Burnham, Dee Wayne (Beverly), Bud Allan (Joyce), Colleen (Jeffrey) Abbott, Blair James (Kate) and Merril W. (Julie); and numerous nieces and nephews. He was preceded in death by his wife, Lorraine; his parents; and his brother, Gary. (Deseret News)